QUICK ANSWERS TO THE QUESTIONS WE HEAR MOST:
What time does school start? School starts at 8:30 am. Please pick your half day preschool student up at 11:30 am. Afternoon students are dropped off at 12:30 pm. School ends at 3:30 pm.
When is the first day of school? The first day of school is always the Tuesday after Labor Day. You can see the date for this year, along with other important dates on our school calendar.
Do you require immunizations? Yes.
What is your screen time policy? Students watch educational video clips to experience things that they might not be able to observe in person (e.g., Mars rover landing, U.S. Presidential Inauguration, tour of a steel manufacturing plant) and students receive hands-on instruction in technology skills such as typing, computer coding, word processing, spreadsheet use, website navigation, control of a mouse, and internet safety.
What is your discipline policy? Our goal is to keep kids safe and happy. Check out this section of our family handbook to see how we do it.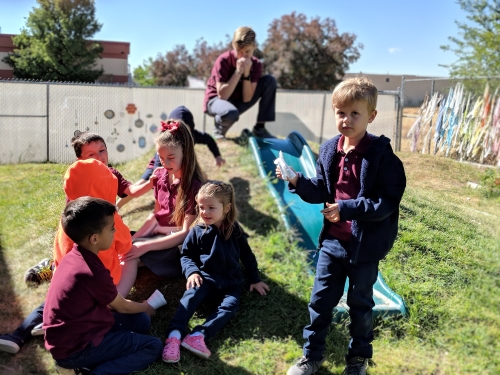 What is your teacher to child ratio? Our primary school ratio is 1:6 for nursery school, 1:8 for preschool and 1:10 for kindergarten. Our lower school ratio is 1:12 and our upper school ratio is 1:20.
Does my child have to take a nap? Nursery school children (2 year olds) have a scheduled naptime each day. Children in the preschool program can take naps at parental request.
Is there a difference between morning and afternoon preschool? Morning preschool students begin their day with outdoor free play where they greet their teachers and friends. This is followed by independent classroom work with the Montessori materials where students focus on math, language skills, social studies concepts and science topics. Each morning concludes with a music and movement class and outdoor free play.
Our afternoon preschool is a play based program. Afternoon preschool students spend time in the Maker Space STEAM Lab where they have visual arts instruction and lot of opportunities for imaginative play. Students have math and literacy centers along with weekly PE and cooking classes. Students end their day with nature school lessons and outdoor free play.
Will my child learn to read in preschool? We honor every child's individual needs and progress. That means that some children will learn to read earlier than other children. Our focus is on helping each child learn to read as soon as they are ready without pressuring them to perform to external expectations. Check out our Preschool Curriculum Sequence for an outline of what we teach each year of preschool.
Do you provide meals? We provide morning snacks for all primary school students and afternoon snacks for students participating in after school extended care. We do not serve lunch. Please pack your child a healthy lunch to eat at school and make sure your student has a water bottle.
How often do you have recess? Our students go outside a lot! (Make sure they have outdoor gear: boots, coats, gloves.) Primary students go outside for free play three times each day. Older students go outside twice each day and have additional opportunities to choose outdoor work or play throughout the day.
What if I still have questions? Try the search feature in the upper right hand corner of this website. Or you can send us an email: info@NahuntaHall.org.