OUR METHODOLOGY: ENCOURAGING DISCOVERY
In 1912, Maria Montessori outlined the day's schedule for children in her Casa dei Bambini (Children's House).
At 9:00 am, children would arrive and be greeted by their peers and the classroom guides (teachers). They would present themselves for inspection of clean clothes and hands and assist each other in changing into aprons for the day's work. Students would then tidy the classroom and spend time in conversations with other children and adults telling them about the events of the previous day.
By 10:00, children would have begun independent work interspersed by brief rest periods between activities. At 11:00, children participated in movement activities, dance and exercise. Lunch followed. After lunch, children had several hours for free playtime, outdoor games, cleaning of the classrooms and community spaces, caring for the school plants and animals, creative and visual art works, and music. They finished each day with social play and outdoor exercise.
At Nahunta Hall, we have carefully designed our primary class schedule to follow Maria Montessori's framework.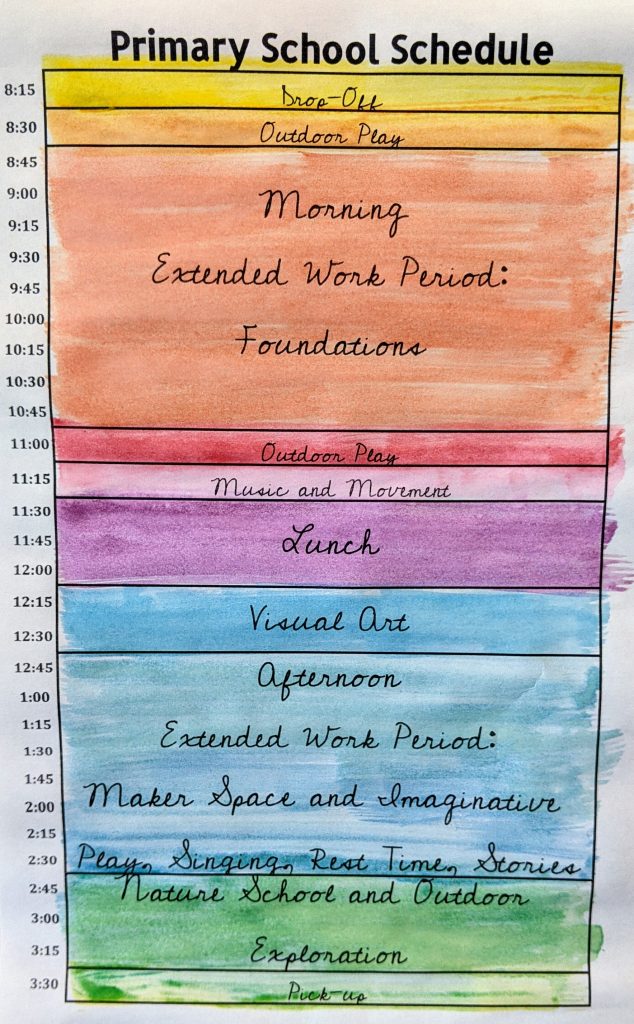 Nahunta Hall students begin the day with outdoor play. This time is for greeting each other and socializing. Like Maria Montessori's morning cleanliness inspections, our students wash their hands and change into clean shoes before entering the classrooms for academic work.
An important part of every day's activities is tidying the classroom, watering the plants and caring for the school pets.
Our preschool and kindergarten students have many opportunities to play outside in the fresh air and enjoy afternoons filled with learning games, visual art activities, PE and music.